Transforming early learning. Building stronger families.
Child Care Associates reaches more than 14,000 children across Tarrant County. We're one of the largest child development organizations in North Texas.
WE SERVE THE WHOLE CHILD AND FAMILY by providing academic and social/emotional growth through quality early education and child care programs. Our early education programs provide much more than instruction — we ensure that each child has a family doctor, a dentist, and is up-to-date on all immunizations and screenings. We ease the burden on low-income families by offering no-cost CCA campuses or offsetting the high cost of child care. As a result, parents are able to work or finish school while learning important parenting and life skills. We deliver:
Head Start and Early Head Start
Educating almost 1,800 preschool-aged children from low-income families with child-centered, play-focused curriculum
Helping 400+ infants, toddlers, and pregnant mothers through center-based and home-based services
Preparing 160,000+ home-cooked meals annually
Offering evidence-based educational practices, including teacher visits to a child's home twice a year and ongoing parental education.
Child Care Services
Assisting 12,000+ families annually with support to offset the high cost of child care for parents who are working or getting an education
Improving the early education system by increasing the number of Texas Rising Star quality-rated child care programs in Tarrant County
Providing direct child care services for children 6 weeks – 5 years old through quality early childhood education. See Meacham Early Education Campus.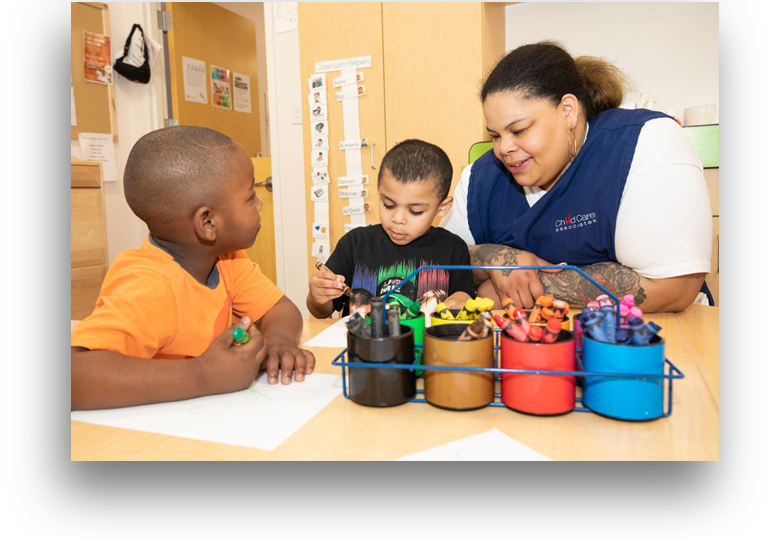 WE SUPPORT THE ENTIRE FIELD by developing early childhood educators in child care facilities and at CCA campuses across Tarrant County. We create career pathways for our employees to take continual steps forward, moving from assistants to teachers to advanced degrees and beyond. We believe the teaching professional is a key ingredient in quality early education, which includes:
Quality advancement
Using a gold-standard educational tool – the Classroom Assessment Scoring System (CLASS) – to assess and improve the quality of teacher-child interactions
Leading Texas School Ready as part of a statewide coaching initiative to support preschool teachers at child care facilities, ISD Pre-K, and Head Start campuses
Professional Development
Registering local early childhood professionals on the Texas Early Childhood Professional Development System Registry, an online "registrar" that allows early childhood professionals to store and track their degrees, credentials, and training
Providing job-embedded coaching and professional development for teachers, including nature-based learning, classroom design, trauma-informed care, language and literacy development, and responsive care giving
WE IMPROVE THE TOTAL SYSTEM by developing policy and system improvements, both locally and statewide. We also improve early education by building innovative early education classrooms that demonstrate what high-quality early learning looks like. With 1 in 10 U.S. children living in Texas, moving the needle in Texas will drive improvement in child outcomes nationally. Our work includes:
Leading local pilot programs and quality initiatives to drive improvement at scale
Researching and evaluating local CCA classroom data to improve the overall system
Helping to connect child care, Pre-K, Head Start, health systems, and social services in two of the nation's largest cities (Fort Worth #15, Arlington #50), providing a blueprint for other communities to follow
Educating on policy improvements at the local level through strong relationships and partnerships, and at the state level through pilot programs, shared learning, and legislative change
Designing quality, research-based early education environments that can be replicated affordably